1. THE TETRAD ON RECORDING TECHNOLOGY
3. LISTENING EXERCISE (REDUCED, CAUSAL, SEMANTIC)
_____________________________________________
1. THE TETRAD
Marshall McLuhan developed a framework to assist in identifying the properties of new technologies according to four characteristics, which he called the Tetrad. Your task will be to apply the tetrad to recording technology. Think about recording technology in relationship with music and sound at large. Answer each of the four questions with one point. (Remember there are no right or wrong answers – you'll gain a lot just by grappling with these questions.
Look at Edison's 10 Phonographic Usages for inspiration AND other tetrads pertaining to the CELL PHONE, FACEBOOK and other technologies.
Answer each of the four questions with one point. (Remember: there are no right or wrong answers – you'll gain a lot just by grappling with these questions.)
1. ENHANCEMENT: What does this new technology enable, enhance, intensify/amplify or accelerate?
2. OBSOLESCENCE: What is pushed aside or obsolesced by this new technology?
3. RETRIEVAL: What recurrence or retrieval of earlier actions and services is brought into play by the new form? (McLuhan: "The content of any medium is an older medium.")
4. REVERSAL: What characteristics does this technology reverse into when pushed to its limit?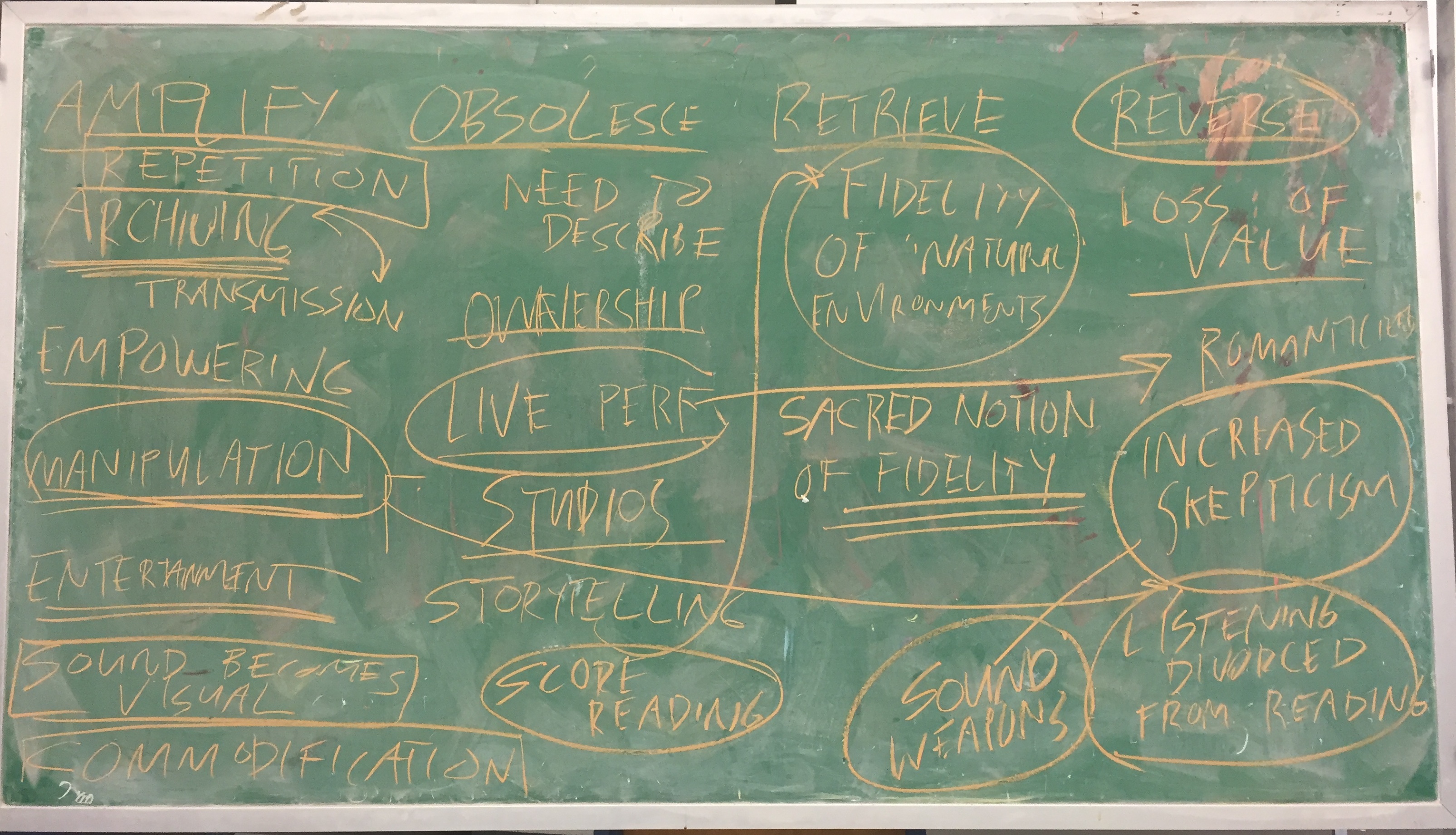 ENHANCES
the event being captured (literally, and figuratively, by selecting a given moment among an infinity of others for posterity and infinite repetition)—reorganizes history
SOUND BECOMES VISUAL: sound becomes subject to examination ("outside-time" capabilities of rewinding, pausing, replaying, selecting etc.)
infinite repeatability (Paul DeMarinis suggests that the problem of "earworms" stems directly from the capacity to replay something again and again)
commodity status of sound (sound/music as object of exchange);
circulation and dissemination (phono-graph = sound-writing)
the possibility of distorting (editing) a historical record; decontextualization (combined with circulation produces a potent weapon)
recombinant potential (radio shows) – the potential of unlikely adjacencies;
new instrumental possibilities: turntable as instrument (DJ)
listening as a solo experience, divorced from any necessary ritual, community gatherings—>iPod
the listening specialist/audiophile;
aural control of the environment;
OBSOLESCES
the equal value of all events (the importance of some events now heightened by virtue of being preserved for posterity through recording, others consigned to the dustbin of history);
the necessity of remembering
sound as the test of presence–the sound of a door creaking becomes "the sound of a door creaking"— how to tell the real thing from its reproduction?
natural, acoustic instrumental balance (mixing, compression, equalization distort original relationships);
social gatherings centered around the live (unrepeatable) event;
gossip about a mythical event – now that event is recorded, becomes "fact"
the clear distinction between performance and score (both become data of sorts);
representations of silence (metaphorical translations in music) (because surface noise now takes the place of silence);
the relation between virtuosity and gossip (i.e. rumours of a virtuoso performer);
community gatherings;
exclusive access to certain genres of music for the rich;
live performance;
RETRIEVES
REVERSES INTO
3. LISTENING EXERCISE: REDUCED, CAUSAL & SEMANTIC MODES OF LISTENING
FOR NEXT WEEK
1. SPEECH RE-EDIT
Bring in 10 audio clips of political speech downloaded from the internet (YouTube, archive.org etc.). If these are video files, make sure to save them as / convert them to audio formats for editing (mp3, WAV).
Online YouTube to MP3 converter. Another one here.
(Read Vocal Deformance and Performative Speech for inspiration.)
2. READING: KODWO ESHUN: More Brilliant Than The Sun (Motion Capture: Interview)
3. QUESTION
Have you ever been afflicted by an earworm, an involuntary, obsessive, musical fragment you can't get rid of? Can you recall the event that brought it on? Did other memories associated with this fragment come up at any point? Could you get rid of it? How?