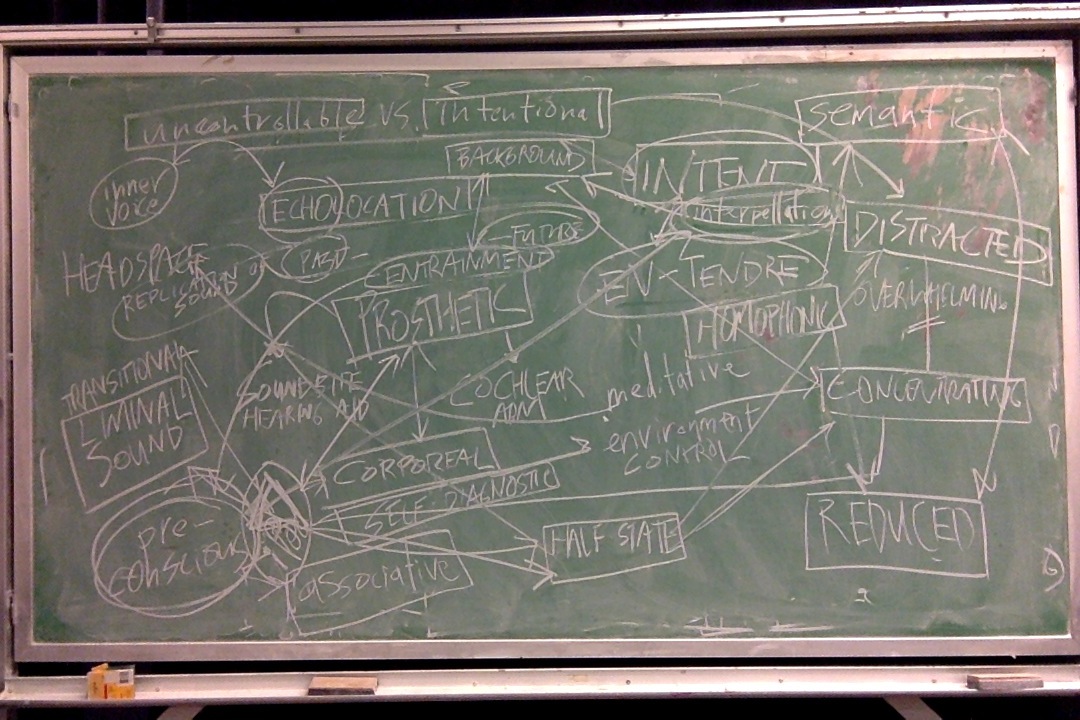 Term:  FALL 2017
Course Director          
Marc Couroux
couroux [at] yorku [dot] ca
Course consultation hours: by appointment
Time and Location
Monday 1:30 PM – 5:30 PM, Goldfarb Fine Arts 330 and 328
Sound for Artists is dedicated to an exploration of sound art both as a distinct practice and through its interdisciplinary intersections with sculptural, installation, performative, musical, and other time-based visual art practices. The history of sound art will be explored, from the Futurists to John Cage, to Fluxus, soundscape, speech-based and radio art practices, exploring both analog and digital manifestations. Topics covered include: acoustics/psychoacoustics, feedback/delay, collage/edit and studio manipulation, architecture/space and installation, speech/language/sound poetry, technological blind spots, subliminal and lowercase sound, expanded notions of the soundscape, radio art, noise and industrial music, silence…
The student will produce sound projects applying digital technologies within the context of their own discipline and practice, or as freestanding works. Potential projects may include acoustical experiments, installation / spatial works, collages / cut-ups, performance pieces, noise-based work, environmental sound, and will involve the use of non-linear editing / mixing systems (Digital Performer) and professional sound recording technologies (see below).
Each class will begin with a 60-minute presentation on artists relevant to the course of study. In addition to this, readings and listening excerpts will be assigned each week. These materials will either be available on reserve in the library or accessible online. In-class tutorials for professional sound software (Digital Performer – installed on desktop computers in 328) and professional digital recording technologies (audio recorders (Zoom & Sony), microphones (SoundMan OKM earbud, boom and lavalier)) will take place periodically in the VAAH computer lab (328) for a comprehensive list of Time-Based Area equipment).
Reviews of material covered in class will be made available on the class website. Following in-class tutorials, the remainder of the class will be devoted to discussion of concepts/readings, student presentations, open studio / lab time for assignments and project support.